Disposable plastic tissue cassettes are suitable for holding and identifying tissue samples in processing, embedding, and sectioning procedures. The cassettes fit securely in microtome chuck adapters. They are molded from a high density polymer that is totally resistant to the chemical action of histological solvents. These cassettes are designed to accept standard metal lids and will keep specimens in complete safety during processing. The slanted writing surface accepts markings easily, permitting sample identification throughout all stages of embedding and long afterwards when in archives. They are available in 11 colors.
Each case contains 3 dispenser boxes of 500 cassettes.
---
Related Items
30 Minute Luxol Fast Blue Stain Kit
$ 104.22
---
Description
Our kit is designed for staining myelin/myelinated axons and Nissil substance on formalin fixed, paraffin-embedded tissue as well as frozen tissue. Our kit is used for identifying the basic neuronal structure in brain or spinal cord sections, and contains a Cresyl Echt Violet counterstain. Using our protocol and the modified formulation, myelinated tissue can be stained in as little as 30 minutes.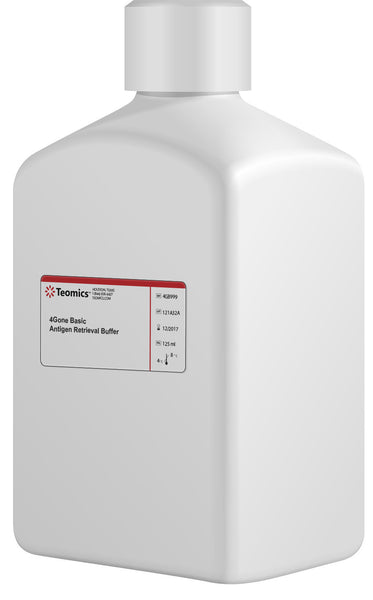 4Gone Basic
$ 249.00
---
Teomics offers an array of new antigen retrieval products that make immunostaining quick and easy. 4Gone is a unique antigen retrieval system that utilizes gentle heating at low temperatures, allowing you to retrieve a large variety of antigens that can't been seen with other reagents.
4Gone Enhance
$ 349.00
---
 4Gone Enhance is a patented antigen retrieval solution that further enhances antigen retrieval over 4Gone Basic.