Eosin-Phloxine Solution is intended for use in the histological demonstration of cytoplasm. The addition of Phloxine to Eosin results in more vibrant staining than with Eosin alone. When used correctly, Eosin-Phloxine various shades of pink can be obtained to aid in the visualization of tissue components.
Cytoplasm: Pink to Red
Erythrocytes: Pink to Red
Alcoholic Hyalin: Pink
---
Related Items
30 Minute Luxol Fast Blue Stain Kit
$ 104.22
---
Description
Our kit is designed for staining myelin/myelinated axons and Nissil substance on formalin fixed, paraffin-embedded tissue as well as frozen tissue. Our kit is used for identifying the basic neuronal structure in brain or spinal cord sections, and contains a Cresyl Echt Violet counterstain. Using our protocol and the modified formulation, myelinated tissue can be stained in as little as 30 minutes.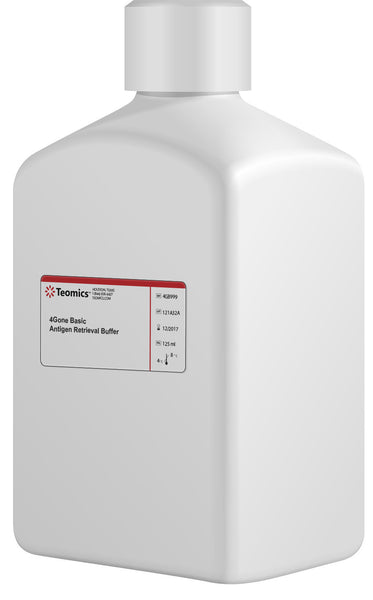 4Gone Basic
$ 249.00
---
Teomics offers an array of new antigen retrieval products that make immunostaining quick and easy. 4Gone is a unique antigen retrieval system that utilizes gentle heating at low temperatures, allowing you to retrieve a large variety of antigens that can't been seen with other reagents.
4Gone Enhance
$ 349.00
---
 4Gone Enhance is a patented antigen retrieval solution that further enhances antigen retrieval over 4Gone Basic.