Each SlideFile Storage System includes a slide box and a removable tray. A tinted hinged cover makes the contents of the box easy to see at a glance.The base is available in five different colors to help in slide classification and to minimize the possibility of sample mix-up. The key to the SlideFile System is a removable tray inside the storage box having a hundred individual numbered slots. All slides are stored upright for easier insertion and removal. Simply tilt them forward and backward with one finger to easily and rapidly pick up the slide you need. A unique feature with this system is to be able to read bar codes without having to remove the slides from the box. For space saving purposes, you can double the amount of slides simply by storing two slides per slot. For maximum storage space, simply remove the tray and line up 400 slides in 3 rows for long term storage. Will resist temperatures between -80 C and +80 C. Not autoclavable.
Dimensions
82 x 245 x 86 mm H (3 1/4 x 9 5/8 x 3 3/8 in. H)
---
Related Items
30 Minute Luxol Fast Blue Stain Kit
$ 104.22
---
Description
Our kit is designed for staining myelin/myelinated axons and Nissil substance on formalin fixed, paraffin-embedded tissue as well as frozen tissue. Our kit is used for identifying the basic neuronal structure in brain or spinal cord sections, and contains a Cresyl Echt Violet counterstain. Using our protocol and the modified formulation, myelinated tissue can be stained in as little as 30 minutes.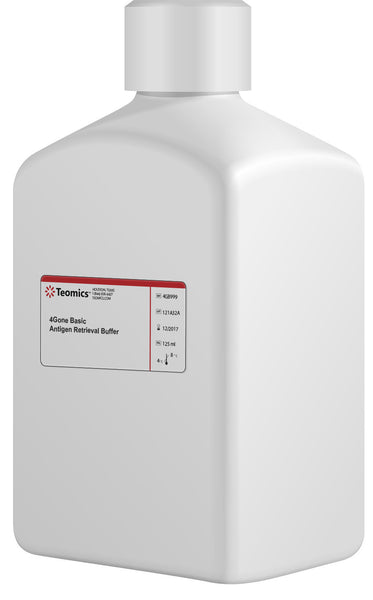 4Gone Basic
$ 249.00
---
Teomics offers an array of new antigen retrieval products that make immunostaining quick and easy. 4Gone is a unique antigen retrieval system that utilizes gentle heating at low temperatures, allowing you to retrieve a large variety of antigens that can't been seen with other reagents.
4Gone Enhance
$ 349.00
---
 4Gone Enhance is a patented antigen retrieval solution that further enhances antigen retrieval over 4Gone Basic.