Few recommendations concerning how the biopsies should be handled have been published. Performing a large number of biopsies means an increase in the number of containers handled and consequently a technical overload of the transmission network, which occurs without any financial counterpart. A new approach had to be developed in order to increase productivity. Teomics is proud to offer the CoreDish® from Simport, a multi-compartment container, for prostate biopsies.
The CoreDish® is in the shape of a dish measuring only 15 mm high x 95 mm diameter and is half prefilled with 10% Neutral Buffered Formalin. The screw on lid incorporates an O-ring in order to make it leakproof and protect its contents. The CoreDish® conforms to OSHA directives. An area for patient information is provided on the label.
Each compartment is clearly identified to allow proper placement and visualization of the prostate biopsy being inserted. All twelve compartments are labeled: L Base, R Base, L Lateral Base, R Lateral Base, L Lateral Medial, L Medial, R Medial, R Lateral Medial, L Lateral Apex, L Apex, R Apex, R Lateral Apex.
Thanks to the CoreDish® it is not necessary to use a multitude of individual containers, thereby reducing risks of confusion. Made of polystyrene. 10 per case.
---
Related Items
30 Minute Luxol Fast Blue Stain Kit
$ 104.22
---
Description
Our kit is designed for staining myelin/myelinated axons and Nissil substance on formalin fixed, paraffin-embedded tissue as well as frozen tissue. Our kit is used for identifying the basic neuronal structure in brain or spinal cord sections, and contains a Cresyl Echt Violet counterstain. Using our protocol and the modified formulation, myelinated tissue can be stained in as little as 30 minutes.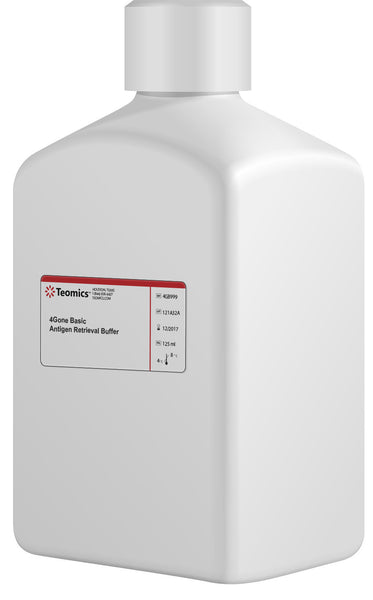 4Gone Basic
$ 249.00
---
Teomics offers an array of new antigen retrieval products that make immunostaining quick and easy. 4Gone is a unique antigen retrieval system that utilizes gentle heating at low temperatures, allowing you to retrieve a large variety of antigens that can't been seen with other reagents.
4Gone Enhance
$ 349.00
---
 4Gone Enhance is a patented antigen retrieval solution that further enhances antigen retrieval over 4Gone Basic.