Finally, a user-friendly approach for staining your microscope slides.
The EasyDip"¢ slide staining system consists of a square staining jar and a 12-position vertical slide rack. Ideal for special stains, frozen sections, and microwave oven processes, the system is easy to clean and autoclavable. The slide staining jars have a wide, stable base for greater stability while the recessed interior allows for a smaller reagent volume of 80 mL. Jars are constructed of break-resistent acetal polymer, and are resistant to most staining agents including alcohol and xylene, but not phenol.

Jars can be loosely joined to each other laterally to maintain order in the laboratory. Additionally, jars are available in five different colors to assist in identifying contents or applications.

Each case includes 5 jars and 1 rack. The slide staining rack holds up to 12 microscope slides of varying dimensions. Slides fit into individual slots for free passage and rapid drainage of staining fluids. Due to their vertical insertion within the rack, the slides writing area will not be stained by the fluid, allowing the slides to be removed without the use of forceps.

The staining rack is also constructed of acetal polymer and is specially formulated for rapid drying in a microwave oven, or at temperatures up to 120°C (248°F). The lid completely covers the EasyDip"¢ slide staining jar to minimize spills or evaporation. A handle is permanently attached to the rack for easy insertion and removal. Autoclavable.
Dimensions: 64 x 76 x 92 mm H (2 1/2 x 3 x 3 5/8 in. H).
---
Related Items
30 Minute Luxol Fast Blue Stain Kit
$ 104.22
---
Description
Our kit is designed for staining myelin/myelinated axons and Nissil substance on formalin fixed, paraffin-embedded tissue as well as frozen tissue. Our kit is used for identifying the basic neuronal structure in brain or spinal cord sections, and contains a Cresyl Echt Violet counterstain. Using our protocol and the modified formulation, myelinated tissue can be stained in as little as 30 minutes.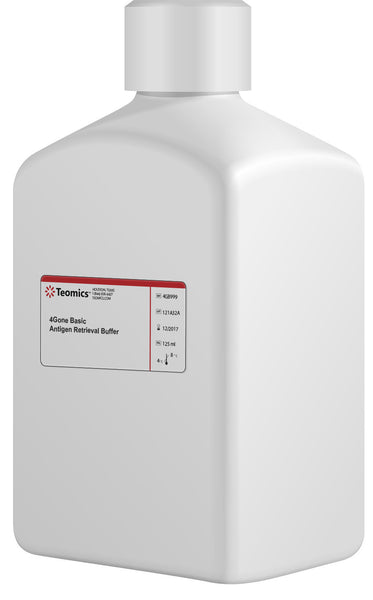 4Gone Basic
$ 249.00
---
Teomics offers an array of new antigen retrieval products that make immunostaining quick and easy. 4Gone is a unique antigen retrieval system that utilizes gentle heating at low temperatures, allowing you to retrieve a large variety of antigens that can't been seen with other reagents.
4Gone Enhance
$ 349.00
---
 4Gone Enhance is a patented antigen retrieval solution that further enhances antigen retrieval over 4Gone Basic.