A new and unique approach makes this dissecting board more convenient than any other found on the market today. It is no more necessary to buy different sizes as this board offers a large surface on one side and two smaller ones on the other side. Made of heavy-duty stain resistant thick polyethylene, it will last for years to come without changing shape, bending or swelling. Will not dull fine surgical blades. In order to contain fluids, a drain groove is carved all around the edge of the DissecTable. On one side, you will find a large cutting area including dimensional scales in inches and centimeters, along with a 60 x 80 mm grid made of 48 x 10 mm squares. Six dimensional circles are also printed from 1/8 to 5/8 in. and 4 to 14 mm in diameter. Flip it over and the other side offers two cutting boards half the size with the same dimensional features printed on each one of them. All corners have rubber feet giving more stability to the working surface. Our Blue Base is sold separately.
Dimensions
575 mm x 400 mm x 12.5 mm (23 x 16 x 1/2 in H)
---
Related Items
30 Minute Luxol Fast Blue Stain Kit
$ 104.22
---
Description
Our kit is designed for staining myelin/myelinated axons and Nissil substance on formalin fixed, paraffin-embedded tissue as well as frozen tissue. Our kit is used for identifying the basic neuronal structure in brain or spinal cord sections, and contains a Cresyl Echt Violet counterstain. Using our protocol and the modified formulation, myelinated tissue can be stained in as little as 30 minutes.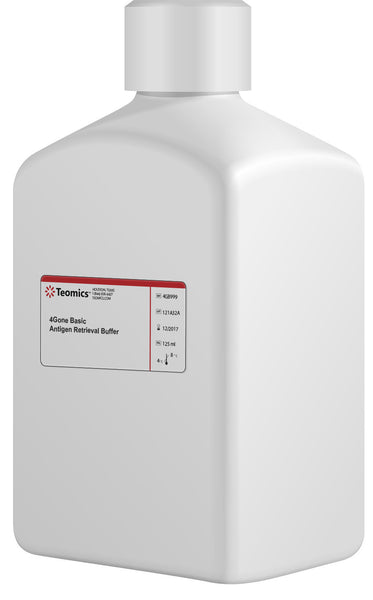 4Gone Basic
$ 249.00
---
Teomics offers an array of new antigen retrieval products that make immunostaining quick and easy. 4Gone is a unique antigen retrieval system that utilizes gentle heating at low temperatures, allowing you to retrieve a large variety of antigens that can't been seen with other reagents.
4Gone Enhance
$ 349.00
---
 4Gone Enhance is a patented antigen retrieval solution that further enhances antigen retrieval over 4Gone Basic.