Made of ABS Plastic
Simplify your workflow with this user-friendly approach to immunohistochemistry staining. It will accept up to 20 slides on four plastic rails covered with a polymer strip to perfectly hold slides even if tray is held at an angle. When humidity is needed, wells between rails will hold up to one ml of water securely without splashing. The middle wells will hold up to 2 ml each. Rails are raised not only to avoid water touching the slides but to make them more easily retrievable. The base will also hold excess stain solution dripping from the slides. Four rubber feet ensure greater base stability. Units are stackable for space saving purposes. This tray is also suitable not only for routine staining requiring a humid chamber, but is also ideal for Hematology, Cytology and Microbiology laboratories. Manipulation is made safe and easy by using only one hand.
The StainTray has a black base made of tough ABS plastic withstanding a wide range of chemicals (avoid chlorinated hydrocarbons ).
Two covers are available:
Clear cover allowing for visual examination. Made of PETG with a temperature range of -20 °C to +60 °C.
Black cover for fluorescent work. Made of ABS with a temperature range of -80 °C to +80 °C
Dimensions with cover: 38 W x 24 D x 4.5 H cm (15 W x 9 3/8 D x 1 3/4 H in.)
---
Related Items
30 Minute Luxol Fast Blue Stain Kit
$ 104.22
---
Description
Our kit is designed for staining myelin/myelinated axons and Nissil substance on formalin fixed, paraffin-embedded tissue as well as frozen tissue. Our kit is used for identifying the basic neuronal structure in brain or spinal cord sections, and contains a Cresyl Echt Violet counterstain. Using our protocol and the modified formulation, myelinated tissue can be stained in as little as 30 minutes.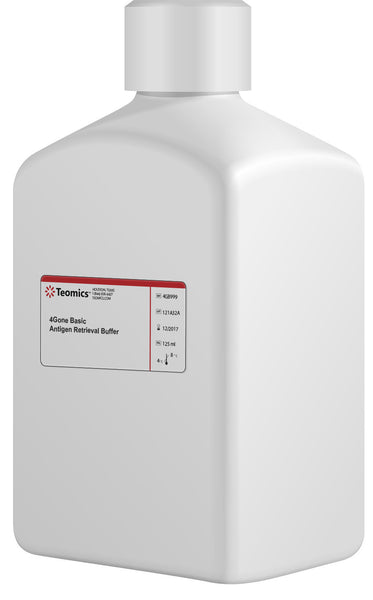 4Gone Basic
$ 249.00
---
Teomics offers an array of new antigen retrieval products that make immunostaining quick and easy. 4Gone is a unique antigen retrieval system that utilizes gentle heating at low temperatures, allowing you to retrieve a large variety of antigens that can't been seen with other reagents.
4Gone Enhance
$ 349.00
---
 4Gone Enhance is a patented antigen retrieval solution that further enhances antigen retrieval over 4Gone Basic.